It's that time again…Listography this week is being hosted by The Reluctant Dad
A lot of my time is taken up with my new baby and 3 year old, so this list is purely about ME.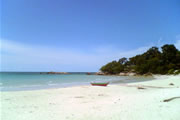 1) Go on holiday – We moved to Singapore in January when I was 5 months pregnant. Because of this, we've unable to take advantage of the fact that Singapore is so close to so many amazing places. It's been exceedingly frustrating. I've got a pretty long list of place I'd like to visit, many of which I first visited when I was a backpacker. My baby is now 8 weeks old and I've got itchy feet. As a first trip, we'll probably go to Bintan or Bali.
2) Get in shape – yes, yes, yes, it's time to get my body back to it's pre-pregnancy shape. There's a pool and a gym in our condo and personal trainers are fairly cheap, so I really don't have an excuse.
3) Do Sunday brunch at a top hotel – Singapore is renowned for its hotel brunches – The Four Seasons, Mandarin Oriental, Shangri-La, Hilton all put on amazing spreads every Sunday. The food is to die for, you can pay extra for free flowing champagne, and kids get their own buffet and activities to entertain them. My mission is to go to all of them whilst I'm here.
4) Have tennis lessons – I haven't played tennis for years. There are tennis courts at the condo
5) Work – I have had a long time off because of being pregnant, moving and now having a baby, I'm getting restless and want to get back to being freelance journalist.
What's on your list?