We didn't know a huge amount about Singapore when we first arrived. I'd spent a few days there as a backpacker a long time ago, when I first fell in love with the island, and Mr C had never been before. Often big corporates organise recces for people relocating, so they are able to spend a week or two sussing out schools, accommodation and anything else. This wasn't the case for us. We had a month from the time we arrived to find somewhere to live. Not easy with Mr C working, me pregnant and Miss C, a very reluctant companion on accommodation visits. We saw about 25-30 apartments, much to her disgust. I had to bribe her with treats (sometimes there is no other option). We finally picked Aspen Heights, River Valley Road. It's definitely to be recommended if you have children and we love it.
Here are my top tips on finding somewhere to live in Singapore.
Searching for properties: Work out your wish list and use a good agent (speak to people for recommendations), but also check sites like Singapore Expats or Property Guru.
Budget: Be flexible and be prepared to compromise. Rents are high in Singapore, you're lucky if you're on a big expat package (sadly fewer and fewer people are these days). We had to increase our budget to get what we wanted and we still had to compromise.
Type of accommodation: Many expats live in condos, especially in central Singapore. We decided we wanted to live somewhere central that was family friendly, at least for the first couple of years, so houses were out of the question.
Location: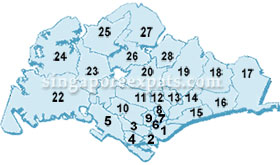 Districts 9 or 10 are really popular with expats, especially for those new to Singapore, because they are very central, however areas such as East Coast, Sentosa, Novena and others are popular too. Look at Singpore Expats for more information.
9 City (Cairnhill, Killiney, Leonie Hill, Orchard, Oxley, Paterson) – this is where we are.
10 Central (Balmoral, Bukit Timah, Grange Rd, Holland, Orchard Boulevard, River Valley, Tanglin)
Transport: If you don't have a car (they are very expensive), then you will probably need to be near a good bus route or Mrt – We aren't near an MRT as Mr C gets a bus to work and we are in a central location. I get taxis if I need to, which are very cheap.
Proximity to work/shops: It was important for Mr C to be near work, after living in London he was fed up of commuting. He's now 15 minutes away from his office. We're walking distance to a Cold Storage (main supermarket chain in Singapore – not somewhere to keep food/drink cold as I originally thought).
Construction sites: Unfortunately everywhere in Singapore is near a construction site. We were initially put off seeing Aspen Heights because it is right next to a construction site, but our apartment is on the other side of the condo so the noise doesn't affect us. However, a few of our friends in the same condo have been badly affected by the noise. It's worth checking if there are any new developments coming up near accommodation you look at.
Facilities: Having 2 young children meant facilities, especially a pool, were very important. Our condo has fantastic facilities that include a pool area, tennis courts, gym, squash courts, mini-mart, BBQ area and even a hair salon. It's worth checking if there are any plans to renovate the pool any time soon. This does happen and you can get stuck for months without one – a nightmare in this heat. If you live somewhere without a pool or facilities, the alternative is to join a club. e.g. American Club, Dutch Club, British Club or Tanglin Club.
Family-friendly: Condos can be a great way of meeting people. Aspen Heights is full of families (it's a bit like a holiday resort really) and I have made so many great friends here. However, some condos we saw had a pool, but very few families.
Maids Room: The majority of expats (and in fact a vast amount of locals) have maids. It's one of the perks of being an expat in Singapore and they really do make life so much easier. If you're planning or even just thinking about getting a maid, make sure there is a maid's room.
Outdoor space: We nearly went for a 17th floor apartment without a balcony in a different condo but I'm glad that we actually picked an apartment with a balcony. Obviously children and balconies is a separate issue.  You can get safety grilles fitted if you want.
So those are my top tips for looking for somewhere to live when you relocate here. Good luck!