Every year I do a round up of the best and most unique luxury advent calendars for kids and for adults, and here are are my top picks for Christmas 2013. There's something for kids, grownups, chocoholics, beauty addicts, whisky lovers and more. With two weeks to go until the 1st December, you'd better get yours soon.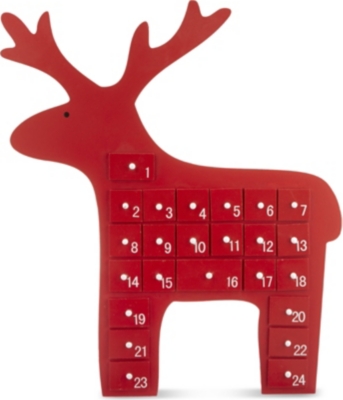 Reindeer Advent Calendar– £47.95 from Selfridges
This Nordic advent calendar by Gisela Graham looks super-stylish and has 24 boxes for you to add treats for the kids – I'd go for non edible things like stickers, messages or other little things.
Editors pick: Nordic Reindeer Advent Calendar Kit – £26 from Notonthehighstreet.com
The second (and final) Nordic-style one on my list and I love it. It makes a great alternative to a traditional advent calendar. Fill in the boxes with activities of your choice – it's a fabulous family activity to get everyone in the true spirit of christmas! How about bake Christmas cookies, make a paper snowflake or donate old toys to charity?
 Fortnum & Mason Christmas Tree Advent Calendar – £85 from Fortnum & Mason
Fortnum & Mason do stunning advent calendars each year. This year my favourite is this wooden tree, which kids will love using year after year. You can also buy a bag of treats to put inside the boxes.
Advent Wreath by Bisquites – £ 60 from Notonthehighstreet.com
What a gorgeous advent wreath covered with 24 handmade iced shortbread biscuits. It's unusual to see something so different out there.
Felt Snowman advent calendar – £34.99 from Selfridges
Such a cute snowman advent calendar. Fill the pockets with all sorts of edible or non-edible little bits and away you go. It can be used year after year.
Nutcracker: Story Book Set and Advent Calendar – SGD $16.98 from The Book Depository
What a find! It features 24 miniature books hidden in numbered windows that retell the magical tale of the Nutcracker.
Betty's Advent Calendar – £47.50 from Bettys
Chocolate heaven…This 24 pocket fabric advent calendar, designed by Cornwall-based textile designer Poppy Treffy, is filled with a festive selection of Bettys finest Swiss Milk and White Chocolate novelties. The best thing is you can buy refill bags next year.
This Whisky Advent Calendar 2013 – £150 from The Conran Shop
One for dads…this is one my husband would love. Personally I can't stand the stuff. Behind each of the windows is a 3cl dram of different premium whiskies. It could be from a top distillery in Scotland or somewhere more exotic. The Ginvent one the company does that I featured last year is much more my cup of tea.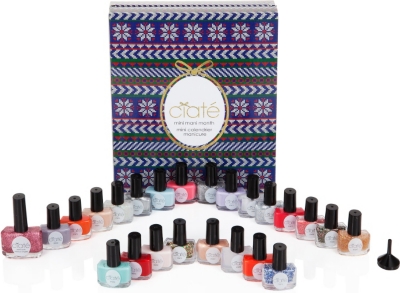 Ciate Mini Mani Advent Calendar 2013 – £42 from Selfridges
One for yummy mummies. The Ciate Advent Calendar was one of my favourites last year and this year's one looks just as fab. It's filled with 24 mini nail treats and is a must have for beauty addicts.
Have a look back at the simply gorgeous Selfridges beauty advent calendar I did a post on a couple of weeks ago too.
The Advent Calendar – £30 from Prestat
A luxury advent calendar for chocoholics as it's filled with 24 of the finest chocolates.